About Us - Sideshow Illusions
Origin
Jon Gresham, showman, fire-eater, museum proprietor, created his first Sideshow in the early 1950s and over almost twenty years he built up an empire of sideshow attractions that appeared at seaside amusement parks including, Scarborough Margate, Rhyl, Yarmouth, Porthcawl, and at Belle Vue and back-end fairs. Foreseeing the demise of the live show as a fairground attraction his shows closed and went into storage in 1969.
Restoration
In 2003 Jon Marshall, with the encouragement of Pat Gresham and mutual friends, Professor Eddie Dawes and Billy Tempest and the assistance of a brilliant team, re-created Jon Gresham's Cleo the Girl in the Goldfish Bowl. In the first audience was Professor Vanessa Toulmin, Director of the National Fairground Archive at the University of Sheffield. Vanessa invited Jon and the team to present Cleo at the Visual Delights III conference on popular culture and so started a close collaboration which has enabled many more Gresham sideshows to be brought to life.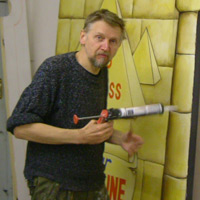 Since then the Sideshow Illusions team has restored and re-created seven of Jon Gresham's original sideshows, and performed them to live audiences up and down the country.
Creative Team
Under the creative leadership of Jon Marshall, theatre director, magician (Jon is a member of The Inner Magic Circle with Gold Star), and sideshow showman, the Sideshow Illusions team have built a reputation for its inventive re-creation and presentation of these intriguing sideshows.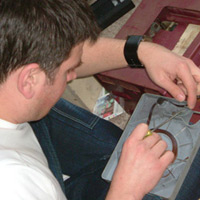 Many of the techniques used date back to Victorian times, to the days when Professor John Henry Pepper electrified London's Royal Polytechnic audiences by creating live, ghostly apparitions on stage in the 1860s.
Dave Whatt – set designer, painter and builder, the key member of our restoration team.
Steve Collison – Co-Director, performer and production manager.
Phil Smith – Sound specialist. Phil's work on rescuing and cleaning the original 1950s sound and creation of new soundtracks for the shows is invaluable.
Cast and crew – Jamie Waudby, James Long, Tim Cockerill, Rob Jamieson, Ayla Skye, Daisy Stemple, Kay Trayford, Chloe Thompson, Ginny Lax, Jason Coyle, Joe Waudby and Lillie Kerman.
Commissions, Consultation and Communication
Admission All Classes 2007, For Blackpool Council and the National Fairground Archive, Sideshow Illusions and Dave Whatt designed and created ten completely new Sideshow booths for Cabinet of Curiosities and devised and presented a new Sideshow - Madame Arcana for the Halloween Ball. http://www.admissionallclasses.com
Showzam! – Blackpool's Annual Festival of Circus, Magic and New Variety. In 2009 Jon co-curated the Circus of Wonders Exhibition, the first time that five restored Gresham sideshows were seen "together in all its glorious illusion". Sideshow Illusions' shows have been seen by thousands at the Showzam festivals in 2010 and 2011.
www.showzam.com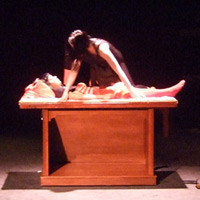 Sheffield Entertained – we were delighted to work with the National Fairground Archive, University of Sheffield, and participate in this two year project. Performing acts, presenting Sideshows and Flea Circus, training Zombies and reprising Madame Arcana at the Crucible Theatre for events including, Picnic in the Park, Wakes Weekend at Kelham Island Museum, Shefield Fayre and Fright Night.
www.shef.ac.uk/nfa
Dystopian Wonders – Marissa Carnesky's show "Delving into the strange worlds of waxworks and cults". Sideshow illusions provided illusion advice and designed and built some unique effects for Marissa's amazing show that toured to the Roundhouse, Sheffield Crucible and The Lowry.
All the Fun of the Fair – BBC 4 Sideshow Illusion's Jon Marshall was invited to contribute to this brilliant 2011 Timeshift documentary showing the development of Fairs as an important part of our popular culture.
http://www.bbc.co.uk/programmes/b012zmy7
Lectures and talks – In 2009 Jon and the Sideshow team were pleased to take part with a talk and the Headless Lady show, with NFA's Professor Vanessa, in Inexplicable Acts a series of talks and shows for the Welcome Trust, one of many talks on sideshow history, Jon Gresham's shows and their restoration that Jon has given since 2004.
http://www.wellcome.ac.uk/News/Media-office/Press-releases/2009/WTX053209.htm
Future
After showman Jon Gresham put his shows in storage he wrote – "Someday, somewhere, someone will want to see a sideshow and there will be few people with the experience and equipment to present one. It will be a great pleasure for me to resurrect them for a generation that has not seen them, there being a distinct possibility that I may some day open a museum of sideshows"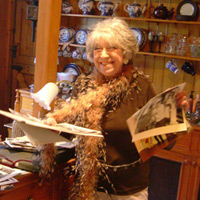 It is our delight and privilege, working with a wonderful team, to help fulfill his ambition.
In making sideshows for today's thrill seekers we are on an exciting journey to discover, experiment and develop the presentation of the next generation of sideshows. Almost all the existing, original, Gresham show fronts have been restored and the shows newly staged, but there are still his lost shows, like the Butterfly Girl – completely re-imagined and rebuilt in collaboration with Mark and Sarah of The Insect Circus for Showzam 2011, to resurrect, for which there are secret props in storage for future presentations.
Grateful thanks also to, among many who have assisted
Danny Hunt and Annette Claire, Michael Diamond. Scott Penrose, Paul Kieve, John Archer, Ray Hall, John and Anne Davenport, Rosina Escreet, Hayley Escreet, Nikki Curran, John Curran, Emma Bateman, Amber Stemple Richard Morriss, Pat Fallon, Richard Morrell, Robert Waite, Domanic Li, Erik Nock, Joe Waudby, Arthur Setterington, Gordon Scott, Garth Price, Derek Lever, Ian Spooner, Mark Copeland, Sarah Munro, Max Blake, Alan Shaxon, Hollie Pepper, Peter Lane, Alex Boanas, Mike Smith, Karen Warner, Al Stencell, Roger Alford, Steph Edwards.
For more information call

01482 709939

or contact Sideshow Illusions today!